These photos are best viewed while listening to Island Songs (Ólafur Arnalds).
Last night we saw a spectacular show of the aurora borealis.  There aren't any words to quite describe it.  We saw the first glimpses around 9 PM (Iceland time) while the sky was still lit from dusk, and at first I thought my eyes were playing tricks (pun intended) on me.  The show started slowly and faintly at first but didn't waste any time.  It was quite brilliant for the first few hours and generally came in ribbons which spanned maybe 20 degrees of the sky.  The show only let up lightly – there was always a faint haze in the sky from it.  Later past midnight the show was less intense but more spread throughout the sky.  I stayed up until everyone had gone to sleep and around 2:30 AM I noticed my lens was fogging up – the temp had dropped to a cool 3°C, the camera was cold all over and I couldn't keep the water from condensing for more than a minute at a time.  I called it a night around 3 AM.
Normally I try to pick out a favorite shot, but in my roll of 200+ shots, there's really about 50 truly amazing photos in there.
One of the best aurora photos is this one: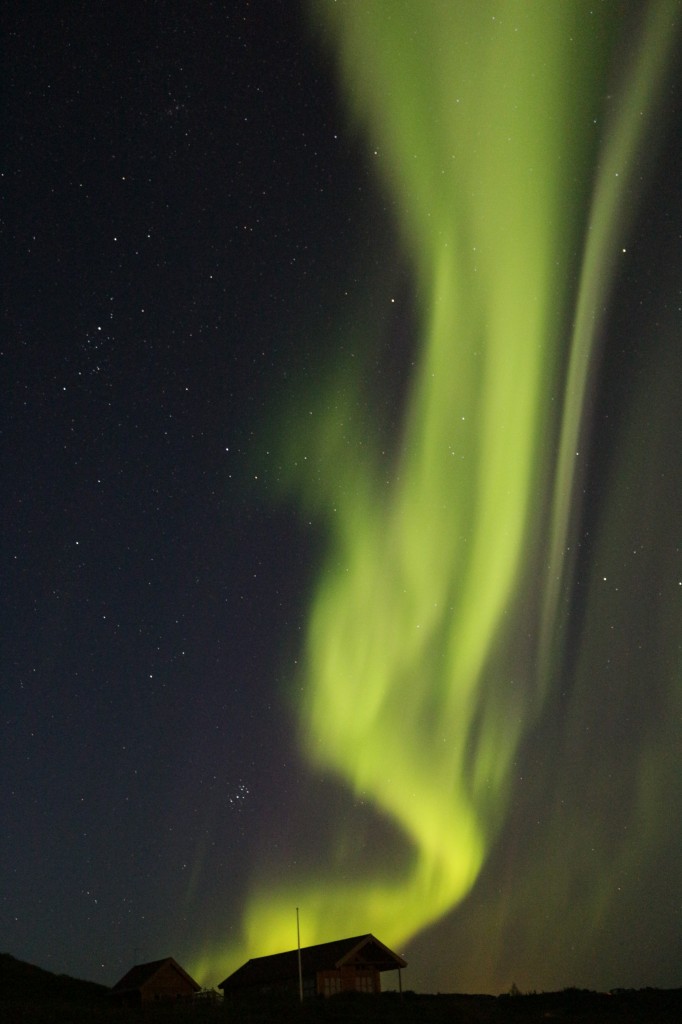 My favorite shot of a rather large bunch of really truly amazing shots is a 10-minute exposure star trail + blurred aurora: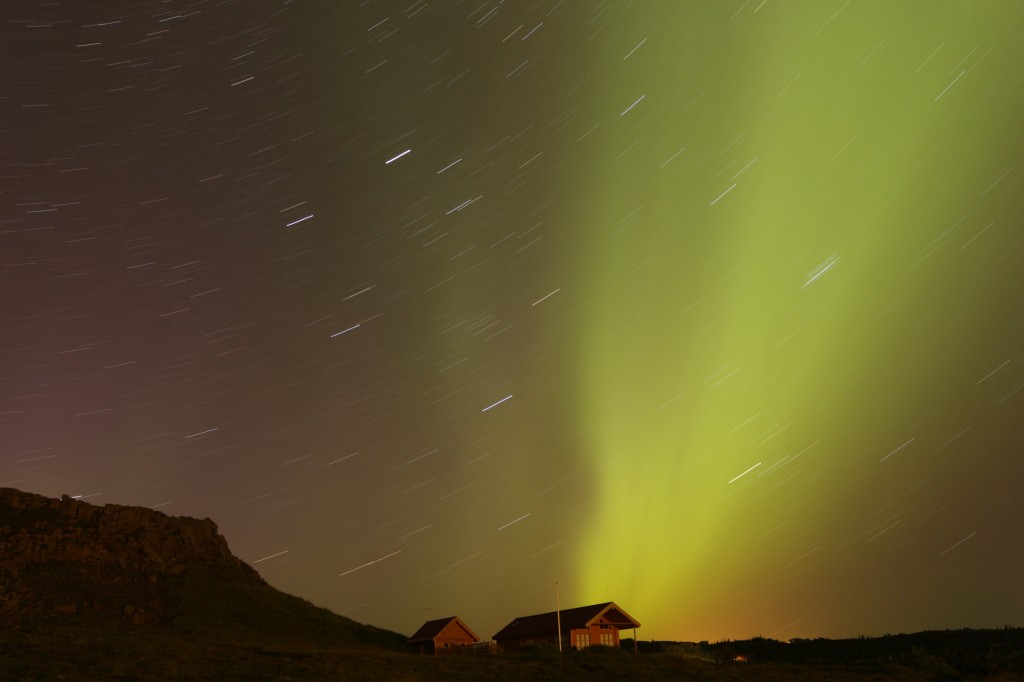 For the photos: Sit down, put on the song Particles, and browse the full image set.
I also took a few series of timed shots which I then animated and put on YouTube:

For the photography nerds out there…read on.
Photos taken on my Canon T5i (700D) w/ EF-S 18-55mm f/3.5-5.6 ISM lens between 10 PM on August 31st, 2016.  Most shots are fully zoomed out at 18mm, f/3.5, with exposure lengths from 4″ to 10″ and ISO set to auto varying all the way from 160 for longer 30″ exposures to ISO 3200 for some of the shorter shots.  I can't decide which shots look better, the 30″ ISO 200 shots or the 6″ ISO 3200 shots that have so much detail but a bit of grain in them.
Photo stitching is done with mencoder and then uploaded to youtube as a 4k video.
Photo series are timed and exposure controlled with a TriggerTrap.
Since I'm traveling and using a small suit case, I only had my GorillaPod tripod with me.  A lot of shots show a small amount of false "star trail" which is artificial – it's the camera moving slightly and slowly during the longer exposures.
All in all shooting this with my camera wasn't really that hard.  Just put the camera on shutter priority mode, set it to a few seconds, and set it to a 2-second delay before taking the shot so you can let go of the camera before the shutter opens.  Hardest part was getting the focus right.  The only way I could get it right was to find one of the pesky neighbor houses a few miles away with a bright lamp on their porch, zoom and focus on it, and then zoom back out making sure I leave it on manual focus. Then just never touch it.  I wish the camera/lens had a firm way to zoom to infinity, but the lens lets you zoom beyond infinity which produces reliably blurry images.
To really shoot this…a full frame camera wouldn't hurt at all.  A fixed wide angle lens would be perfect for this, and a more sturdy tripod.  I'll probably buy a wide angle lens for just-in-case someday I find myself here again :)
Finally, for Sarah: